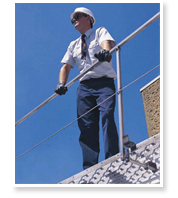 Philosophy

Professionalism every step of the way

STS is well equipped to handle complex projects and can design, manufacture, operate and manage, turn key projects. We ensure maximum consistency by providing efficient and professional services and simultaneously offer our clients great advantages with project coordination, scheduling, and execution.

Methodology

STS employs highly skilled engineers and technicians with excellent qualifications and international experience. We take a professional approach to our projects and ensure our clients receive complete satisfaction.

Stringent safety standards

In keeping with the company's commitment we adhere to internationally recognized standards and procedures. STS follows stringent safety guidelines, and takes all necessary steps to guarantee safety of its employees and the environment. Projects are executed in accordance with ISO 9001:2000 standard.

Specialized equipment

To ensure maximum accuracy and efficiency, STS uses advanced state of the art equipment. We constantly improve our services through research and development and work in close corporation with our principles.