World-wide the water and waste water utility agencies are facing increasing costs for water production. Most utility agencies have to deal with higher consumption of water, much higher energy costs, and the increased demand for high quality water against depleting water resources. Tight economic situation made it necessary to look at improving the water utility networks and increasing revenues by enhancing the networks efficiency.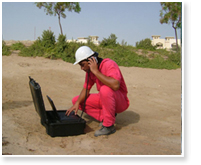 STS has made it its goal to provide a full and comprehensive service to assist the utility agency in minimizing water losses and improving the network efficiency in a professional manner. Water audits into the consumption and usage are carried out and solution for improvement provided.






Our typical survey identifies unnecessary water usage, leakages, misuse and unknown connections. A comprehensive report is provided including notes, updates on existing drawings, recommendations for further investigation and possible rehabilitation required.

We have established considerable cost savings whereby some clients could save up to 75% of their water bill.