None metallic pies such as PVC, HDPE, GRE, GRP etc. are subject to deformation during construction and changing soil loads. ATV WRC recommends carrying out deflection surveys at various intervals of line construction. Qualitative inspections of newly constructed lines are recorded and deflections outside acceptable limits detected at an early stage. STS provides deflection measurement surveys in line with these standards.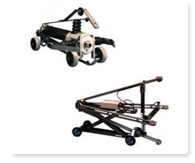 Our units can be applied separately or combined together with CCTV inspection survey. The measuring probes scan the surface of the pipe and measure the pipe diameter in both the vertical and the horizontal plane. Independent data logger records all measured value at preset intervals.

Two measuring probes are used for pipe diameters between DN150 mm and 420 mm, and pipes between DN450 mm and 800 mm can be measured.